CROSS-X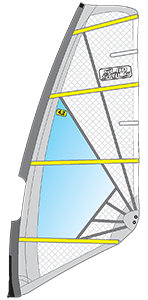 new range of sails for enthusiastic freestyle and freewave sailing in the used conditions upto hard conditions.
There is used x-play monofilm in their whole area except a window, which makes their power of resistance higher. The sails have deep profile in the upper part and therefore these sails have more power. New construction of a mast sleeve is made for CC RDM masts.
Gaff and foot are reinforced with PVC cording for greater resistance to abrasion. On the front surface of mast sleeve is sewn strap that prevents abrasion in contact with stack stone, concrete and the like.
The sails have 3 blocks in the tack for easier trimming of their luffs.
EQUIPMENT:
- 3 bar soft batten + automatic trimming
- 2 hard battens + automatic triming
- reinforcements = mylar 210 g/m2
- body of a sail = monofilm x-play 4oz or coloured monofilm 125-150u
- windows = monofilm 125 or 175u
- forvard segment = x-play monofil or mylar 210g/m2
- mast sleeve - dacron 240 g/m2 and integrated mast protektor