ELEMENT-X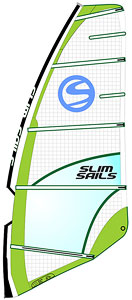 new range of no camber and reinforced sails suitable mainly for advanced riders developed for using on internal lakes or intermediate wave condition on sea.
The sails are made from x-play monofilm except them windows where is used transparent monofilm. The sails are designed with deeper profile in the upper part of the sail which gives more power. The sails are made for using of RDM or SDM masts with CC.
Gaff and foot are reinforced with PVC cording for greater resistance to abrasion. On the front surface of mast sleeve is sewn strap that prevents abrasion in contact with stack stone, concrete and the like.
The sails have 3 blocks in the tack for easier trimming of their luffs.
EQUIPMENT:
- 5 bar battens +automatic trimming
- reinforcements = mylar 210 g/m2
- body of a sail = x-play monofilm 4-6 oz
- window = monofilm 175u
- mast sleeve = dacron 240 g/m2 and integrated mast protektor