FAJNA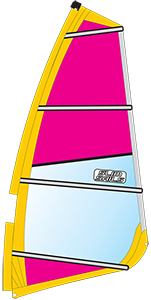 new range of very light and no camber sails recomended to juniors for race in the class BIC. By using there was discovered the sails are suitable as a lady sail and for recreational windsurfers.
The sails are designed for RDM masts and they are made from coulored monofilm except windows which are from transparet monofilm.
Gaff and foot are reinforced with PVC cording for greater resistance to abrasion. The sails have 3 blocks in the tack for easier trimming of their luffs.
EQUIPMENT:  
- 4 bar battens
- body of the sail = coloured monofilm 125 or 150µ
- window =  monofilm 125 µ
- reinforcements = mylar 210 g/m2
- mast sleeve = dacron 250 g/m2