MARATHON SL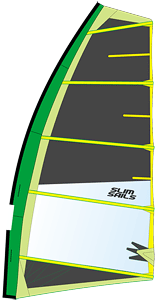 a camber, very light sail for competitors and enthusiastic riders of long surfboards with a dagger board.
The profil of the sails is made in the whole area of the sails so that they are suitable in the weak wind too. A new wide mast sleeve gives higher power to a sail and makes easier putting a mast into it during trimming. On the front surface of mast sleeve is sewn strap that prevents abrasion in contact with stack stone, concrete and the like.
 New concave cutting off the leech and foot prevents from its twisting. Five karbon battens give Marathon sails stability, little weight and great power in the light and middle wind conditions. The sail has three-block the bottom corner for easier trimming of a sail. Gaff and foot are reinforced with PVC cording for greater resistance to abrasion.
Recomended mast for the sails is CC 490 / 29 IMCS or MCS 26. It is necessary to use steady mast extension 45cm or 60cm long to sails with area 8,5m2 and 9,5m2.
EQUIPMENT
- 1 bar batten,
- 4 carbon tube battens, 3 cambers
- body of the sail = monofilm 100 or 125µ
- mast sleeve =  dacron 180 g/m2
- luff pannel and reinforcements =  mylar 200 - 220 g/m2