RETRO WS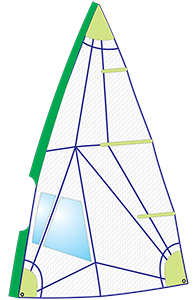 We started to produce clasical, triangl sail for lowers of retro ones. We added new knowledge but dimensions stayed original.
The sail are made from gitter mylar except them windows where is used transparent monofilm. Reinforcements and batten pockets are made from mylar and mast sleeve from dacron.
We make this sail to order and it is designed for SDM or RDM masts. It is also possible to make a whole sail from the dacron. The customer can also choose the color combination he wants the sail to have.
EQUIPMENT
- 3 battens stisk in pockets
- reinforcements = mylar 210 g/m2
- body of a sail = gitter mylar 3 oz
- window = monofilm 175u
- mast sleeve = dacron 200 g/m2