Windsurfing sails repair
We provide fast repair of all types of sails for windsurfing and sailing, including kits from all manufacturers.
Below is a sample of our work. On the first and second picture is sail before repair and on the 3rd image after correction.
Kite surfing equipment repair
We repair kites inflatable and chamber types, including bars, harness, and various rope and strap connections.
This service has been performed since 2001, and we have a great experience in it. We repair about 1-2 kits per week, in the season time even more. We have a variety of materials and colors for the given type of repairs,we have in stock and of course we have the appropriate machinery for this service.
Custom Sawing
We also make to order various kinds of tarpaulins, boat cover, tents, tent shelters to residential trailers and cars, and possibly other similar products. We need a complete sketch - drawing with dimensions.
Work and advertising tents
Here is a sample of some of our work, customized products.
Board bag sawing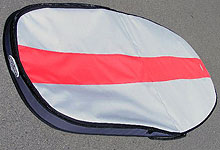 Slim company sew you bag for board or cover for any other product
Prices:
Kite board = 1.200-1.500Kč
Windsurf board with length upto 3,0 m and:
- circumference upto 140 cm =  2.500Kč 
- circumference between 140 cm and 170 cm = 2.800 Kč
- circumference between over 170 cm  = 3.000 Kč
Board in other dimensions = negotiated